DVD-Rom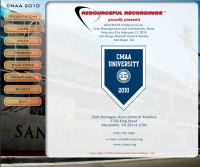 Click for a larger image
Our interactive dvd-rom has been developed over the years, including continual improvements. The dvd-rom is a compilation of an entire conference program including the audio presentations, session PowerPoint's, speaker biographies, session descriptions, session objectives, speaker contact information, conference highlights, and social networking links. The entire program is produced onto 1-3 discs. The dvd-rom has outperformed all of its competitors by being self-launching, user-friendly, cross-platform, interactive, and requiring no additional software to operate.
Resourceful Recording's mission is to provide the finest digital audio and video reproductions of educational sessions from your association, organization, or corporation for the purpose of continuing education. To accomplish this, we capture, edit and produce sessions digitally, thereby avoiding any degradation that takes place with analog transfers. We use Macintosh computers, professional studio editing software, and a digital audio interface to comprise our professional mobile recording studio.
Using Apple's industry leadership in multi-media development, we quickly produce high quality, professional recordings while maintaining the digital integrity of the recording from start to finish. With each recorded session, we edit out unwanted noises/feedback, coughs or even an annoying hum that may have been present in the room. We then enhance the sound quality when necessary and boost the volume of off-microphone scenarios to produce a brilliant reproduction of your educational sessions.
All of our products are packaged with full color graphics with a design approved by the client. These are printed directly to the surface of the disc. We offer a large selection of album covers, jewel cases, and sleeves that will hold the number of discs required, whether it be one disc or a hundred discs.